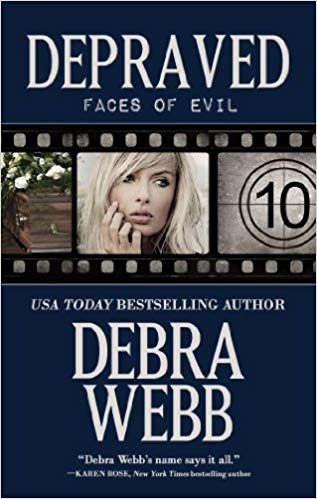 Depraved is the tenth book in the bestselling, critically acclaimed Faces of Evil series. The finale is coming! Are you ready? Have you ordered Heinous, book 9? Don't miss a single book in this terrifyingly fast paced series!
The serial killer obsessed with Deputy Chief Jess Harris has finally been cornered but the body count is still rising. With only the two-book finale left, the Faces of Evil series has reached critical mass. Chief of Police Dan Burnett is on administrative leave, his life is falling apart and the remains of the detective he is suspected of murdering have been found. Worse, his missing ex-wife is back to finish something she started years ago–putting a bullet in his head.
Deputy Chief Harold Black has assumed the post of Birmingham's top cop, a dream of his for more than a decade–but why is he suddenly second guessing the events that put him there? Private Detective Buddy Corlew is poised face to face with serial killer Eric Spears and Jess Harris has just learned that everything she thought she knew about where she came from is a lie.
There's only one way to end this–someone has to die…
Don't miss the next book in the decade's best series! See why readers and reviewers alike are saying you can't put these books down once you start reading!
Order Now