Epiphany: Undercover Santa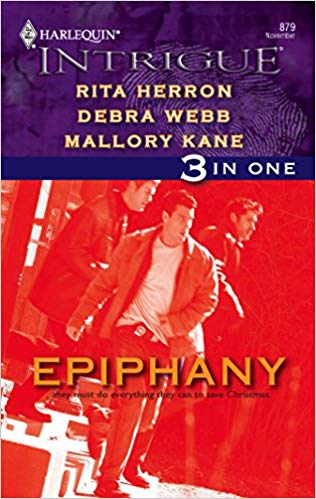 ATLANTA POLICE DEPARTMENT BULLETIN:
All police officers should be aware that the recent increase in crime activity that is running rampant through the city of Atlanta, Georgia, is quickly destroying the holiday spirit of our citizens. As sworn officers of thelaw, we must do everything we can to save Christmas.
An Angel for Christmas by Rita Herron
Detective: Max Malone
Assignment: Protect former flame Angelica North and her nephew, an eyewitness to his mother's murder, from the madman who wants them both dead.
Undercover Santa by Debra Webb
Detective: Trey Murphy
Assignment: Protect Rebecca Saxon from the murderous jewel thieves who have targeted her as their next victim.
Merry's Christmas by Mallory Kane
Detective: Trevor Adkins
Assignment: Protect pregnant Merry Randolph, the only surviving victim of the Widow-Maker serial killer, and safeguard her unborn child.
Order Now