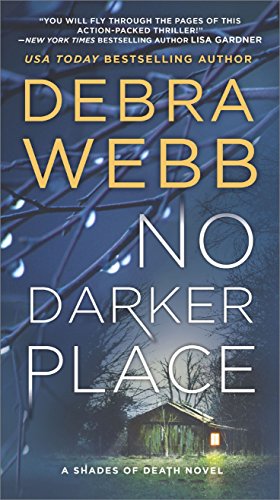 Finally NO DARKER PLACE is here!
Once in a great while an amazing character comes to life in my head and I just have to write the story. This time the character is Detective Bobbie Gentry. She is an incredibly strong woman who has lost everything and somehow managed to find her way back to the land of the living–on her own terms of course! Her story is one I hope will take your breath away. In writing her story Bobbie took me to the darkest places I've dared to go to date. I hope you'll join my journey with Bobbie by picking up your copy of NO DARKER PLACE today. It's available in paperback, ebook and audio wherever books are sold. Check your favorite local bookstore! Also, for your convenience, I have listed some of the links where you can order your copy. You can also order the short story prequel, THE BLACKEST CRIMSON, in ebook!
I hope you're ready for spring! My tulips are poking up from the earth. We've settled into our new home and I'm working on another book with Bobbie!
Here are those links to order No Darker Place I mentioned!
For Amazon click here!
For Indie Bound click here!
For Walmart click here!
For Target click here!
For iBooks click here!
For Barnes&Noble click here!
Cheers!
Deb