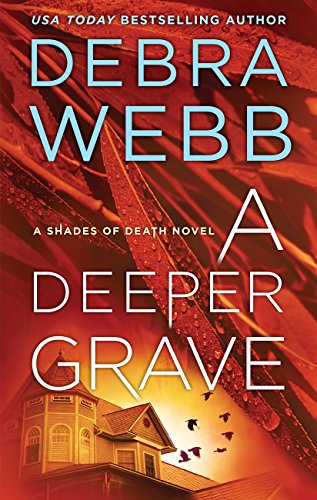 Hello Summer and My New Book – A DEEPER GRAVE!
Hello friends!
I'm so excited that summer is here! Yes, technically, I know there area a few more days until it's officially summer but for me it begins today with the release of my new novel, A DEEPER GRAVE! Before I tell you what I've been up to, here's a little something to whet your appetite for A DEEPER GRAVE:
When the hunter becomes the hunted…
Serial-killer hunter Nick Shade built his legendary career chasing monsters—sadistic criminals with a gruesome thirst for death. When he rescued Montgomery detective Bobbie Gentry from horrific captivity and helped her reclaim her life, he didn't intend to be a hero. Or a target. But now a copycat murderer haunts him, and reuniting with Bobbie is his best chance at neutralizing the threat.
Bobbie can't forget the nightmares of her trauma—or the man who saved her. Working with Nick to outmaneuver the person behind a deadly vendetta feeds her hope that there's more to her world than ghosts and destruction. Maybe joining Nick's search for a killer is about gratitude. Maybe it's nothing more than cold revenge. But the only way they can protect themselves is to trust each other.
A DEEPER GRAVE is now available in paperback, ebook and audio wherever books are sold. Check your favorite local bookstore! Also, for your convenience, I have listed some of the links where you can order your copy online.
I hope you're ready for summer! I'm looking forward to spending lots of time with my grand children! My husband and I have planted lots of flowers and shrubs around our new home. We're really enjoying living all on one level. We have wonderful neighbors and we're just down the road from the kids! I'll be in New York in July signing books at the International Thriller Writers conference and in Orlando with the Romance Writers of America! If you live in the area please drop by! What're you doing this summer?
Here are those links to order A DEEPER GRAVE I mentioned!
For Amazon click here!
For Indie Bound click here!
For Walmart click here!
For Target click here!
For iBooks click here!
For Barnes&Noble click here!
For Kobo click here!
Cheers!
Deb
PS: Look for THE COLDEST FEAR coming September 1!