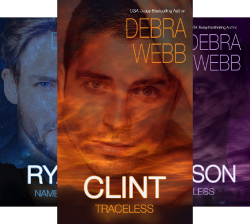 Happy Thanksgiving and New Releases!
Happy Thanksgiving! It's hard to believe that it's almost that time. Around Thanksgiving I have an extra reason to celebrate, my birthday comes this month as well. This November I have a third reason to celebrate! I'm releasing the three books–one every other Friday–in my Dark and Dangerous Romantic Suspense series! Starting with CLINT, available now exclusively at Amazon. Next will be RYAN, and then comes CARSON. If you're a romantic suspense lover you will enjoy these thrilling novels!
My next newsletter will be coming at Christmas. I hope you and yours will enjoy a wonderful and safe holiday! Click here to order your copy of CLINT and the other Dark and Dangerous Romantic Suspense novels! If you're not already following me on AMAZON, please follow me there so you'll never miss one of my new releases! Just click here to follow me!
Enjoy!
Debra